Lifting platform to apply for the "Guozi" at the end of the year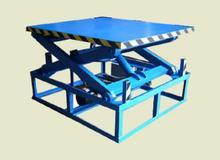 Jiyang County has made new progress in applying for the "Hometown of Hydraulic Lifting Platforms in China". On the morning of the 27th, the China National Machinery Industry Federation visited Jiyang to investigate whether Jiyang could receive this title and it will be clear by the end of the year.
The hydraulic lifting platform industry in Jiyang County started in the early 1980s. At the beginning, only Jiyang Machinery Factory was a lifting platform manufacturer. After nearly 30 years of development, the hydraulic lifting platform manufacturing machine manufacturing company in Jiyang County has increased from 1 to more than 200, and there are more than 70 related supporting enterprises, of which 24 are over 100 million yuan. At present, it mainly focuses on Jibei Development Zone, Jiyang Sub-district Office, Sunjing Town, Qudi Town and Huihe Town. It mainly produces more than 100 scissor lifts, cylinder lifts, self-propelled lifts, and boom lifts. Variety.
In 2011, the output of the hydraulic lifting platform in the county was nearly 180,000 sets. The output value of the hydraulic lifting platform complete machine manufacturing enterprise and related supporting enterprises was about 8.3 billion yuan, accounting for 20.2% of the total industrial output value of the county and above, and the profits and taxes amounting to 900 million yuan. 20.5% of the above-scale industrial profits and taxes, various products accounted for more than 60% of the market share of the country, becoming "the country's largest hydraulic lifting machinery manufacturing and sales base."
It is understood that in September 2011, it officially submitted a report to the China Federation of Machinery Industry on the bid to host the "Hometown of China Hydraulic Lift Platform Manufacturing".
In the next step, Jiyang County plans to build a professional trading platform for hydraulic lifting platforms, hold the "China Lift Platform Exhibition" at appropriate time, and build it into a public trading platform with strong influence in the lifting platform industry in the province and even the whole country. Strike, in the country throughout the country to establish a reasonable production, sales, after-sales service base, to provide customers with convenient and efficient services; At the same time, the county also plans to build China's lifting machinery research base to build the lifting platform industry technology center and lifting platform talent training base for The core is to build a public technology platform at the provincial and national level, providing technical support for the steady and sustainable development of lifting platform companies.
Chicken House,Layer Prefab Steel ,Farm Facilities,Coop For Poultry
Blow Molding Machine Co., Ltd , http://www.nblayercage.com